cry, then try again, if you can muster up the strength. This was the case today when my long-awaited panther ring turned out to be a complete bust. I was so ridiculously excited to receive this ring that ever since it initially shipped I've been tracking it daily sometimes even hourly just waiting to get the notification that it was in San Diego and in transit. I even woke up early to make sure that I didn't miss a minute with my new ring so imagine my face when I opened the package and saw that it wasn't as amazing as I so desperately hoped it would be. I didn't expect it to be as spectacular as the cartier one but for the amount of money I paid I expected quality and quality isn't rough around the edges. It definitely looked a little beat and once I told my mom the price she proceeded to reduce my self-worth to the size of a peanut by reprimanding me about my spending habits. I mean I can be frugal but when it comes to beautiful jewelry I can't help but slip up every once in a while.
I then proceeded to drown my sorrows in some coconut pinkberry & a new gold bohemian-style cuff from forever 21.
I felt that this was a pretty standard accessory that I've been missing out on. I think that everyone should own a big, indian-style, bohemian-style cuff like this. Makes for a great statement piece especially if you're not really sure what to wear or have to rush to get somewhere. It's one of those cuffs that you can just throw on and it will take full responsibility for spicing up the outfit for you.
Fortunately I have this coming in the mail. 
Kenneth Jay Lane white tusk necklace. My favorite jewelry designer. Hopefully this will be a hit. It should be.
Also, in a state of boredom I went to my panther ring sellers blog and discovered this other panther friendly jewelry designer - Anita Ko. I've seen her designs before on Rachel Zoe but didn't know the name so I just assumed they were cartier.  Although there's no way I'd be able to afford some of these at this time it's just nice to look.  I guess you could consider this discount cartier. Here are some of my favs: (Sorry for the screen shots. I would have just posted the regular pictures but since her site has flash I couldn't do my usual copy and paste. & I couldn't find pictures anywhere else).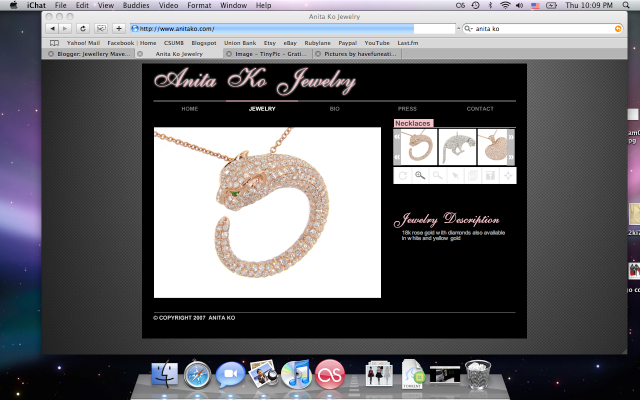 According to her site she invented the circle animal necklace. How innovative right? I have a snake circle necklace.
I've seen a lot of pyramid/stud bracelets that, in my opinion, are just too big, such as the cc skye one. This I think is the perfect size because you can piece it together with other bracelets without it necessarily taking over.
I think Anita Ko's jewelry caters to the people who aren't necessarily over the top in the way they choose to adorn themselves i.e. the people who don't naturally gravitate for the huge pendants or chunky cocktail rings to make a statement. They'd rather go for the more simple and pretty pieces that could go with every outfit, something worn everyday, something that could be considered special or a small signature. I think these pieces achieve just that.  They blend instead of taking charge, their statement is more subtle instead of in your face but they still make a statement nonetheless, just in a different way.
if you look really closely you can see that Rachel Zoe is wearing the panther necklace and bracelet
I guess my search for the perfect panther ring will just have to continue on as exhausting as it's been.